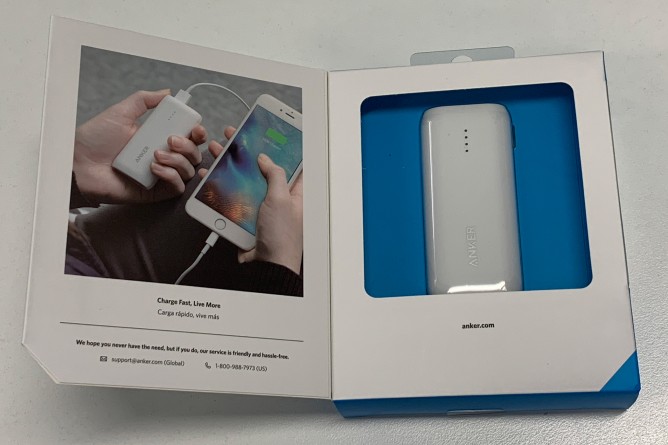 Anker Astro E1 is a lice-looking powerbank from Anker. It is compact-sized and not too heavy, making it a perfect choice when we just need to travel light. According to its official page, Astro E1 comes in 4 colour options: white, black, red and blue. I have never seen the red and blue variants in any physical stores though, perhaps they are online only.
In the era when everyone has smartphones and most people would have at least a powerbank, it becomes rather difficult to choose from a gazillion products available in the market. After long years of trialling many products, I decided to stick with a few brands that I came to trust and Anker is one of them. Powerbanks from trustable brands usually will not have overheating problem, or suspicious sound coming out of the battery brick.
There is only one button on this powerbank, located on the side. Pressing it will show the remaining battery capacity using the 4 LED indicators. There is no need to press any button to use this powerbank to charge our phone. Just plug the cable and it will start charging. Just like other Anker charging products, Astro E1 comes with PowerIQ technology, allowing optimal charging depending on our device.
I love the fact that this battery comes with soft-pouch. Nothing fancy about the pouch, but it is well-made and looks nice. The 5,200 mAh is not super large, but small and compact form-factor is the main selling point of this battery anyway.
Happy with this purchase. Good product that does what it should.