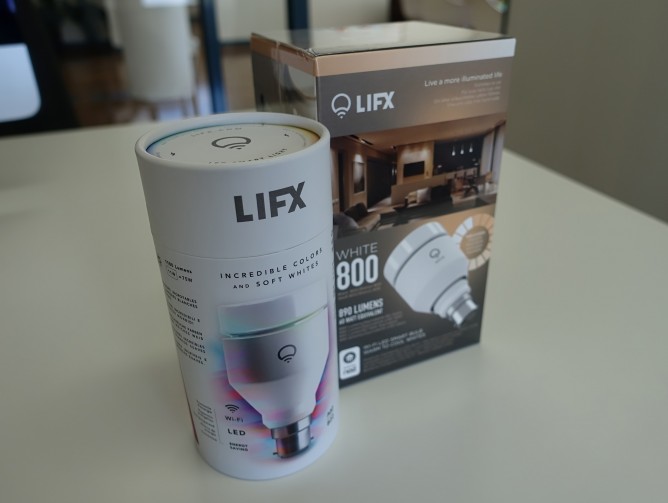 LIFX is a Wi-Fi enabled LED that will connect to our router without any intermediate unit. Each unit of LIFX light bulb directly connects to our WiFi router and controllable from iPhone or Android smartphone with Internet connection from anywhere. This is a different concept from some other products in smart home equipment such as Belkin's WeMo smart light bulbs need a WeMo Link unit to connect to WiFi. This means, all the light bulbs are actually not Wi-Fi enabled. They communicate with the Link unit via wireless radio, then the Link unit connects to our WiFi router. This approach has benefits that our WiFi router doesn't need to handle many connections (some routers have limited number of possible connections), but positioning the central unit can sometimes be a problem and in my personal experience, it affects connection stability.
For different usage, LIFX offers 3 different products: white, color and color with night vision. The white LED can be freely adjusted from 2500K ultra warm white to 9000K blue ice white. We can also adjust the brightness of the light from 1% to 100%. The color version, as expected, allow us to choose from 16 million colors, even though I don't think our eyes are capable to differentiate anything above 10,000 colors or so. The color + night vision adds infrared that promises to enhance the vision of our home security camera in the dark. There's still another product from LIFX: LED strip, but that'a an entirely different product category in my opinion.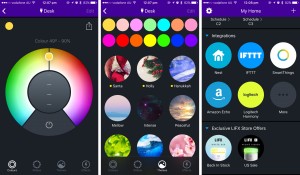 Setting up LIFX is easy. Far better experience compared to my struggle with Belkin WeMo. The LED connects instantly to my wireless network; and connection remains stable since.
The best part of LIFX is arguably its nicely looking app. It allows us to control each LED (the color and brightness). We can group our multiple LEDs based on location and group. So I can have, for example: home, office, then grouped by bedroom, study room, etc. Grouped LEDs can receive the same command easily, such as turning off all lights at home. There are "Themes" which allow is to set up some kind of mood-based color. Naturally this only makes sense for the color model. It also have "Effects", which allow us to set our LED to emulate candle flicker, spooky effect, strobe, color cycle or showing music visualiser. The schedule feature allows us to turn on or off a specific LED or a group, repeated by days of week. For turning on LEDs, we can immediately choose the color, brightness and fade duration.
Integrations feature is another strong point of LIFX. We can set it to work with Nest, IFTTT, SmartThings, Amazon Echo, Logitech Harmony remote and many more. This allows unlimited possibilities of what we can do, assuming we have so many other "smart devices", of course.
This is my second experiments with smart light bulbs so I can only compare LIFX with Belkin WeMo. In my personal experience, LIFX is much better product with better price range. White LEDs with customisable warm-to-cool whites eliminates the need to worry about "which white" to buy. I particularly dislike warm whites for most parts of my house, except for certain areas. So it was rather annoying when I was about to buy my first WeMo and realised they only offer warm white products.
Love this product, will keep using them, and probably will get more LEDs as needed.