Since the old days, I always liked wearing stainless band for my watches. That trend continued during the early stage of smartwatch with Pebble Time Steel. I started realising the need of all-day comfort when I bought Fitbit Charge 2. When we wear a watch for the whole day, the material of the band makes a whole difference in the overall experience.
I like my Apple Watch and enjoy wearing it around 16-18 hours a day. I make it a habit to put it on charging pad every night so I always start my day with full battery. Sure 18 hours is less than 24, but it's long enough for a watch band to cause discomfort. So I began my little quest to find the ideal watch band for my Apple Watch.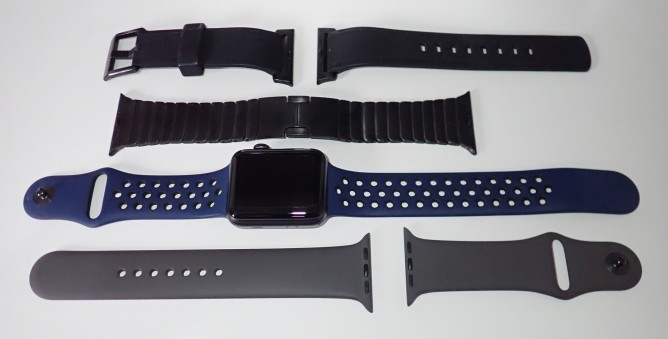 The first one I tested, was of course the default silicone band that comes by default from the Apple Watch package. It is very well-made from nice feeling material and I don't have a problem wearing it for about 8 hours indoor. The problem started after 8 hours, or when I was outdoor doing significant physical activities, or when the weather was too hot and humid. Every time I take off my Apple Watch before shower, I can feel my skin feeling relieved from finally being able to breathe. Yes, continuous contact with silicone material for 8+ hours gave my skin limited chance to breathe and eventually caused discomfort. Any sweat will either speed up the beginning of discomfort, or make it worse.
After reading some impressive reviews on some mainstream tech media, I decided to try Nomad Rugged Strap. Indeed this band is made from comfortable material and I enjoyed wearing it for a few weeks. That was until I discovered another issue with such model. It uses buckle and loop. Almost every day I had to spend some time cleaning the loop. It's either catching water from the times I washed hands, or from sweat.
My third experiment was Black Ceramic Style Stainless Steel Band from OzStraps. Naturally I knew that stainless steel band will never feel as comfortable as silicone. I got this for special evens when I feel the need to wear stainless steel band just for few hours. The band itself is not bad. I spent about an hour removing some links to fit my wrist. It's not the most well-made product I've seen, and I can certainly see some imperfections from its build, but it's generally good enough and most people won't notice the imperfections. Attaching the band to my Apple Watch turned out to be the biggest challenge. This band is made of metal and it's not as flexible as silicone material, so when I put in one lug into the Apple Watch, I couldn't fit the other one. I need to attach both sides at the same time. A bit of inconvenience, but it's still okay because I don't plan to use it every day in the first place.
Final experiment was Nike Sport Band from Apple. It has the best build quality from Apple and very comfortable material, and it has holes to allow my skin to breathe. This ends up being the band I'm wearing every day now. I can wear my watch all day without feeling any discomfort. My only worry is that the holes will get dirty at some point. It's probably going to take some effort to properly clean them.
In the end, the best watch band will depend on every person's personal taste and usage pattern. Hope that a bit of my experience would be useful for you to decide, and perhaps save you from buying watch band you'll end up not using.