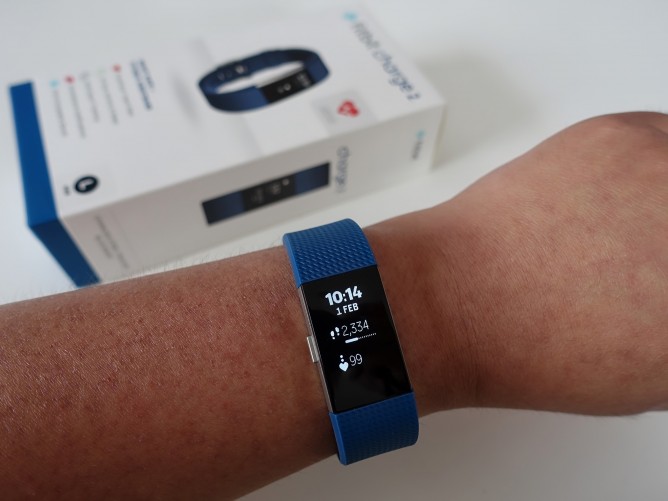 Being a regular user of Fitbit One since 2014 does motivate me to walk more. Since I started using Fitbit app in early 2014, until today I have never missed my daily step target. I felt generally more energetic by walking more and I get sick less often. With those in mind, I feel that now is the time for me to step up my daily efforts in keeping myself healthy. I started looking for a new health tracker that does more.
I am well aware that ideally we shouldn't even need a gadget to do exercise to keep ourselves healthy. However, I am also being realistic that not everyone has enough willpower and everyday environment to do so. Therefore I simply settle with what works. If using technology did get me to walk more, then so be it.
Fitbit is de facto market leader in health trackers. I like their app and already familiar with it for quite some time, so I decided to stick with their products. After some quick reading, it was not had to decide that Fitbit Charge 2 is the most suitable new tracker for me. It looks good, it tracks steps, stairs and heart rate. As a bonus, the wrist band is detachable so I can change its appearance later.
So I ordered my Fitbit Charge 2 around midnight. Intended to get Charge 2 with black band, but mistakenly ordered blue one instead. Tried to call the store when I realised, but apparently it was too late to change because the item has been processed from the warehouse. Lesson learned, do not do online order when half asleep in the middle of the night. Thought I can just return it later and get the black band. But turned out blue band does not look bad, so I decided to keep it.
Fitbit Charge 2 comes with a detachable wrist band and charging cable. The main unit looks a bit smaller than I thought it would be. There is one button on the left, which is a bit counter intuitive because most watches have their control on the right side. At the back, there are charging pins and bump-shaped heart rate sensor adding a bit of thickness to the main unit. Wristband is made from the usual rubbery material, typical for most Fitbit products. Only, for this Charge 2, they use standard watch connection instead of another strange clasp that will only work with one particular model.
Setting up Fitbit Charge 2 is easy. We only need Fitbit app in our smartphone and following the guide on display takes care of everything. My Charge 2 arrives with almost no battery power, so I had to charge it a bit before I can do the firmware upgrade that appears as soon as I paired my new health tracker to my phone.
The screen of Charge 2 is not always on and can not be set to always on. Instead, it will turn off most of the time and automatically on when we make certain hand movement when we need to look at the display. It works most of the time (although with a bit of delay) and when it doesn't, we can turn on the screen using its only button.
Most controls are done from the app. The tracker unit itself only have one button to turn on the screen and to cycle around some most frequent features, and we can also tap the screen as the second method of interaction. This control makes sense because such a small screen will not be the best area for the "usual" touch-screen.
There are 8 clock faces to choose. Not much, but at least it allows some sort of customisation of what we see. I quickly choose a watch face displaying time, date, steps and heart rate. Kinda feels that they should make another alternative of this view with larger time display, but it seems that I have to settle with what is offered now.
A feature I quickly interact with is the one telling me to do 250 steps every hour. Of course I can set up the hours and the days, but actually doing so is more difficult than I thought. I wish they would allow me to set different hours for workdays and weekends. Right now, I can only set one set of hours, so I use it for workdays and completely left out my weekends.
Step detection seems to be working differently from my old Fitbit One. During a quick test, short walk of around 1000 steps in Fitbit One showed around 800 steps in Fitbit Charge 2. But when I'm doing activities other than walking, Charge 2 seems to detect "extra" steps that I don't actually do. Somehow, after I synced both trackers to my app, it always seem to end up with whatever less. Will do more experiments on this.
Overall, my first impression of Fitbit Charge 2 is mostly positive. As usual with health trackers, I will write another post after spending more time with it later. Probably within a week or so.