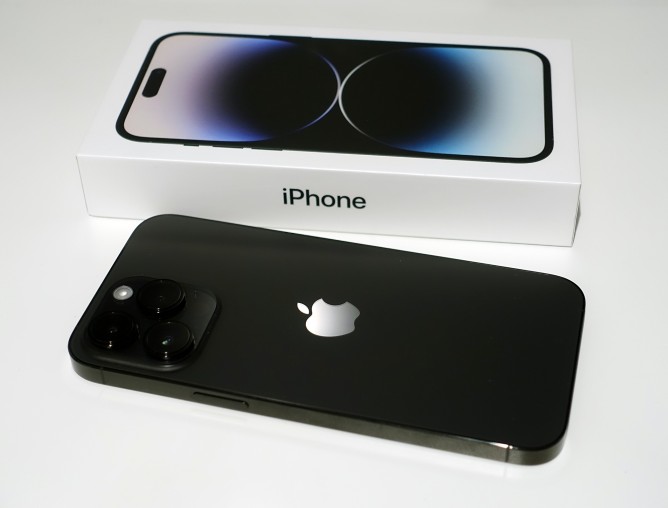 After using my iPhone XS Max for 4 years, I decided that this year is time for an upgrade. Since I use my phone a lot for taking photos, choosing the Pro model is a logical choice. Since I have used the large-sized XS Max without any problem, choosing the Max model is another easy decision.
iPhone 14 Pro Max comes with 4 colour options: black, silver, gold and purple. I have used silver and gold iPhones in the past, I suppose now is time for black.
Choosing storage capacity is another step I needed to go through. My XS Max was 256 GB and I had around 48 GB left. I seriously considered to get 512 GB model for my 14 Pro Max, but couldn't justify the price jump. Looking at the storage use of XS Max, seems that I have massive amount of photos, and I know that significant number of them are multiple shots looking almost similar. You know, when you try to take few more shots hoping one of them will turn out great.
After spending a few weeks choosing the best of every series of photos and deleting the rest, I ended up with just 5500 photos left, and 150 GB of free space. Choosing to stay with 256 GB model seems to be much better idea.
On the preorder day, I had my computer ready. Ended up starting my preorder 20 minutes late and the delivery date was already slipping by 3 weeks for my specific model. I preordered anyway, knowing that it is easy to cancel preorder from Apple website. The next day, I got available preorder stock from another big retailer and cancelled the one at Apple's.
I received my new iPhone on 17 Sep. That was a day late from first day of availability. Still much better than having to wait 3 more weeks. I took the phone to nearby Apple Store to install the usual Belkin screen protector. It is expensive, but I got them to install it for me using that fancy installation tool. From experience, the result is always great, which helps with my OCD.
Next step is setting up the new phone. I am a bit old fashioned and prefer iOS installation from a computer. I made full backup of my old XS Max and restore it to the new 14 Pro Max using my Mac. Then I updated to iOS 16.0.1 that is already available. The process is easy, but it is still taking a long time because it needs to redownload all my apps.
The first annoyance came when it says that one of my app is no longer available in the App Store. I paid for the app, surely I can expect to keep using it even after it is no longer available. Apparently no, Apple does not provide any way to transfer that app from my old phone. So I needed to find an alternative from what is currently available. Not happy.
Another annoyance came when I tried to transfer my eSIM. Apparently my telco carrier does not allow the automatic transfer of eSIM. I have to physically go to one of their stores and present a photo ID before they will help with the transfer. I can understand that this will help to prevent identity theft, but still feel that this could be communicated better. I could have visited the telco store a day before because it is located close to the Apple Store where I had my screen protector installed.
Done with the annoyances, now it is time to start using the new phone. My first impression is how everything feels faster and snappier. I guess I shouldn't be surprised, given that I am upgrading from a 4 year old model. The Dynamic Island looks great and functional, which is a big plus from the old notch.
I never actually had any issue with iPhone notch. After the first few weeks of using the old XS Max, I already forgot that the notch existed, woth exception of a few times when playing games. However, having a proper design to utilise a screen cutout is a nice idea. Showing song art in such tiny size is a nice gimmick, but showing remaining time when setting up timer is actually useful.
With Dynamic Island, glass screen protectors are finally adopting full screen protection. No cut out on the middle, allowing a pleasant look of the front side.
Always on display is a bit distracting. Yes I know that there are some settings to adjust when we want to have our screen completely off. My biggest issue with this feature is that the phone takes slightly longer to wake up when I need it, compared to when the screen is off. For me, this is a deal breaker, so I stopped using this feature within 3 days. Will check again after future iOS update, this should be fixable.
Wireless connectivity are stable and fast, thanks to 5G cellular, WiFi 6 and Bluetooth 5.3. The Ultra Wideband feature finally makes my AirTags a little bit more useful because I can now get some guide to find my lost item instead of only relying on sound.
Camera quality is great. I love the fact that Apple chooses to put 48 MP sensor but still producing 12 MP photos. They use software to process the pixel, resulting in much better photo quality.
Taking photos are fast and easy. This phone manages to take awesome results even in poor lighting situations. Night time photos look fantastic it is hard to believe it comes from a phone camera.
Having 3x optical zoom in and 2x optical zoom out (0.5x) makes significant difference in a lot of everyday situation. The maximum 15x digital zoom is nice in theory, but the phone loses its magical post-processing when using maximum zoom.
I can understand the needs of three camera sensors. However, I could not understand why Apple did not just make that camera square having flat surface. The current design makes it really hard to clean the area between the 3 lenses.
iPhone 14 Pro Max is slightly heavier than XS Max, which is a bit of a let down. I can certainly notice the weight difference when holding my phone with one hand. The new design with flat side takes a bit of time to get used to. I can only hope that I will eventually adjust to this new weight and form factor.
Battery life is a welcome improvement. Most days, I can actually survive the whole day (from 6am to around 10pm) without the need to charge my phone.
I wanted to use MagSafe charging since it was available with iPhone 12. Now I finally can. I am not particularly interested in wireless charging when at home. However, using power bank attached magnetically when on the go sure feels convenient.
Overall, a solid upgrade with significantly better camera. Performance improvements are noticeable in normal everyday use with almost every app, making the whole experience more enjoyable. Will happily use my new 14 Pro Max for a few years to come.