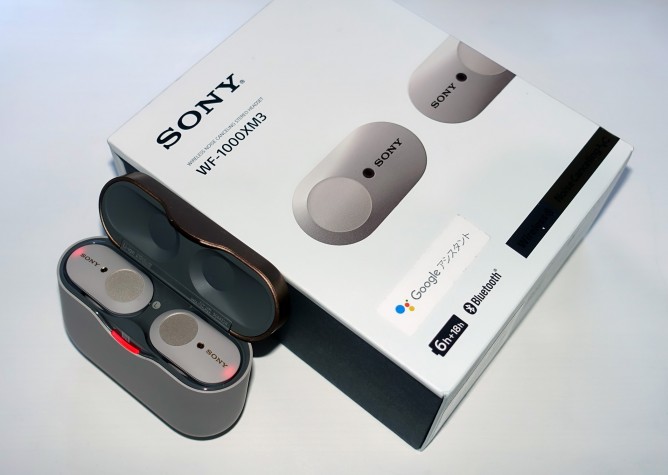 Sony WF-1000XM3 Wireless Noise Cancelling Stereo Headset is Sony's latest product of true-wireless headset with active noise cancellation. Even though the name suggested that it is the third generation of WF-1000X series, this is actually the second release because Sony skipped M2 and decided to go directly to M3, presumably to align the generation number to the popular WH series.
When speaking about best headphones with active noise cancellation, only 2 brands come to mind: Bose and Sony. I am a very happy owner of Bose QuietComfort 35 and does not see compelling justification to spend hundreds to get my hands on Sony WH-1000XM3. Portability is probably my only issue with QC35. Even though it is foldable and the travel case is very useful, there are still scenarios when I simply don't have the space for it in my bag. On the other hand, my old QC20i is quite portable, but it is wired. Kinda hard to go back to wired headphones after enjoying the comfort of wireless for a few years.
Before the release of WF-1000XM3, there was no single strong product in the space of true-wireless combined with good active noise cancellation. Sony's own WF-1000X (first gen) was a bit far behind today's standard of active noise cancellation quality and Bose does not have any true-wireless product that offers active noise cancellation. In a way, I'm glad that WF-1000XM3 is being released. Was a bit worried that Sony might drop the WF-1000X series after years of waiting for M2.
I got my hands on Sony WF-1000XM3 few days ago in a store near Shinjuku Station. I know that the product is probably the same worldwide, but it still feel special to buy a Sony flagship product in its home country.
First impression after unboxing was the fact that the charging case looks quite polished. The size is good for putting it in my pocket and the magnetic snap mechanism feels right on my fingers. This charging case promises 3x full charge, bringing the total listening time up from 6 hours per full charge into 24 hours with the charging case. To make it even better, 10 minutes charging promises 90 minutes of listening time.
Activating the headset is quite easy. I only needed to download Sony's Headphones app and everything is pretty much self-explanatory. There are many settings in the app that I probably need a bit of more time to explore and experiment: Adaptive Sound Control, Ambient Sound Control, Sound Quality Mode, DSEE HX and more. Basically, this product offers some smart features to automatically adjust the noise cancellation level based on our activity. The idea is that we will need different kinds of ANC when we're indoor, when walking outdoor, inside a train and so on. I will spend more time on these and write separate post later.
Without using any of its smart sensing technologies, I can happily report that I am very pleased with the sound quality of WF-1000XM3. The sound is rich and detailed. The bass is strong enough yet not overpowering. I feel that I can fully enjoy my music regardless of where I am, thanks to its superb active noise cancellation. I have not done direct comparison of the ANC against Bose QC35, but I can vouch that WF-1000XM3 should be more than enough for most everyday scenarios.
Sony WF-1000XM3 is comfortable to wear. Perhaps not for whole-day wear, but I am sure that 3-4 hours should not be a problem. The fit is probably not strong enough for doing active sport, but since I only plan to use these for everyday commute, I won't have any problem with it. Fitting the units into our ears is easy, just plug them in and do a small twist pushing the bottom part to the front. Of course, just like any other in-ear headphones, we first need to know which earbuds size fit our ears the best.
The control of WF-1000XM3 can be rather confusing for first time users. By default, the right unit has touch sensitive area for playback control. The left side is used to control the noise cancellation. All of these can be customised in the app from our phones.
Very good first impressions so far. Look forward for more posts from me on this amazing product.