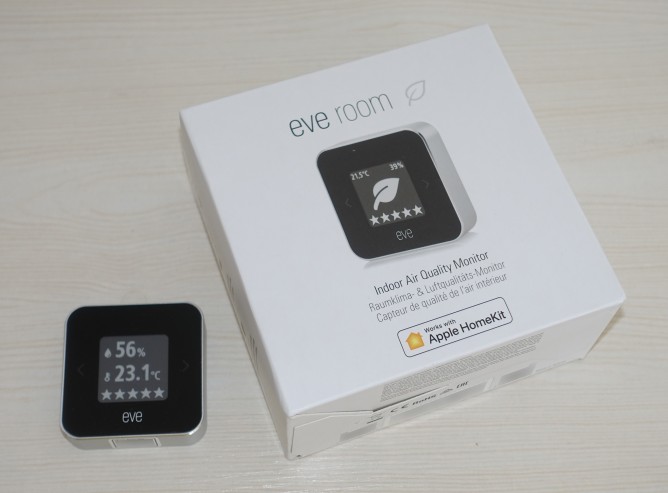 After successful experiments with Eve Energy and Eve Motion, I continue my journey with Apple HomeKit smart accessories. This time, I decide to try Eve Room, 2018 model. Eve Room is a compact accessory capable of detecting air quality, temperature and humidity in a room. This device is powered by 500 mAh rechargeable internal battery and designed for internal use. I feel the need to specify that this is 2018 model because there was an older model with different set of features.
Eve Room 2018 has built-in e-ink display, allowing us to easily see its readings of temperature, humidity and air quality without even opening our phone. The actual display is not as bright as it seems in marketing images, but it is still fairly visible in most situation I could test. On both sides of the bezel, there are capacitive touch controls for us to choose display mode. We can choose display that will focus on air quality, temperature, humidity or showing all 3 in equal size.
Air quality is measured by detecting VOC (volatile organic compounds) in the air that we breathe. There are multiple sources of VOC, including human presence in the room. When contained indoors, VOC emissions quickly rise to unhealthy or even harmful levels. The solution is as effortless as opening a window. This product promises to help telling us when. There are 5 levels of quality represented by stars. 1 star means >800 ppb, 350 to 800 ppm gets 2 stars, 200 to 350 ppb gets 3 stars, 125 to 200 ppb gets 4 stars and below 125 ppb gets 5 stars.
I was a bit skeptical about battery life. It promises 6 weeks of power with a full charge. According to its website, after 6 weeks the air quality detector will stop working unless we recharge the device. If by some reason we still haven't recharge it, the temperature and humidity sensor would still work for a while longer. I've been using it for more than a month and the battery indicator shows 37% remaining. It seems that it does have good battery life and I am happy to be proven wrong.
Personally I like how Eve Room presents its data in the app. It gives me sufficient level of detail without being too complicated. I like the fact that it seems to keep the historical data from the first day I started to use. Not sure if such data will get archived automatically at some point. In fact, data presentation in app might just become my primary drive to stay with eve products for my HomeKit sensors.
Definitely a really good product. Will continue to use this sensor for long years ahead.