Melbourne, the place I call home, is a beautiful city with a lot to offer. From time to time I had a friend or acquaintance asking where are the places they should visit when they come to Melbourne. After a while, I think it is a good idea to write a proper article about it.
First, some common sense that different people has different interests and something interesting for one might be totally boring for others. Hence, I write some quick description about each place and classify the them based on some categories.
To make it easier, you can click on this icon 📌 to see the location of a place in Google Map. Hover the mouse pointer on this icon 🚋 to get information on how to reach the place using public transport. Use this icon 🌐 to open the web page of a place.
For Everyone: Places in Melbourne CBD
| | |
| --- | --- |
| Flinders Street Station is an iconic place in Melbourne. It's a historical train station and still actively used until today as the main station for all metropolitan trains. 📌 🌐 | Federation Square is an open space with some art-related venues. It hosts different events from time to time so if you come on the right days, this place could be far more interesting than some other days. 📌 🌐 |
| Swanston Street is the main street of Melbourne. Always lively, lots of shops, restaurants, cafes, money changers, hotels, shopping centres, lots of different things happening. You haven't seen Melbourne if you hadn't been to Swanston Street. 📌 🌐 | Bourke Street Mall is an open mall at the heart of Melbourne. It's about 2 blocks long and lots of shopping can be done there. Don't forget to take some photos at Block Arcade. 📌 🌐 |
| Elizabeth Street is another very busy street in Melbourne CBD. It's not as crowded as Swanston Street but it certainly offers additional food options and some more stores. 📌 🌐 | Collins Street is where you should go if shopping branded items is your thing. Even without any plan to go shopping, this street is still worth to visit for its historic Victorian buildings. 📌 🌐 |
| Southern Cross Station is the main train station for regional routes. If you fly to Melbourne Airport and took Sky Bus transfer to city, this is where you will arrive. You'll also need to go there if you plan to take trains to other cities/regions in Victoria. 📌 🌐 | Chinatown is located on Lt. Bourke St. It hosts a number of dining options, hotels as well as some historic buildings. 📌 🌐 |
For Everyone: Around Melbourne CBD
| | |
| --- | --- |
| Waterfront City in Docklands offers great harbour view as well as some shopping centres and some dining experience. 📌 🚋 🌐 | Queen Victoria Market is a great place to buy tourism merchandise stuff, you know, things with Melbourne pictures from key-chains, fridge magnets to t-shirts. It is also a traditional market selling fresh meat and vegetables. 📌 🚋 🌐 |
| Flinders Walk is the place to enjoy beautiful city view meets Yarra River. 📌 🚋 | Crown Casino is not only Melbourne's biggest casino with entertainment complex, it also offers beautiful view just to walk around and see Yarra River, great fine dining experience. At night, every hours there will be fire show coming from the pillars long the side of Yarra River. 📌 🚋 🌐 |
| Melbourne Town Hall was built in 1870. It is the seat of the local government area of the City of Melbourne, but also used for multiple purposes such as theatrical plays, weddings, exhibitions as well as school concerts. 📌🌐 | |
For Families with Children

Sea Life Melbourne Aquarium is the place to bring children to see many different types of fish and other sea creatures. I actually enjoyed the experience too as an adult, so it's a place for the whole family. 📌 🚋 🌐

Melbourne Zoo is the place to experience close-up encounters with Australian native animals such as kangaroos, koala, penguins, emu and many more. 📌 🚋 🌐

St Kilda Beach is a very popular beach reasonably close from Melbourne CBD. Melbourne has some other beaches, but the journey will take you longer. 📌 🚋 🌐

Luna Park is a family-friendly amusement park located near St Kilda Beach. 📌 🚋 🌐

Eureka Skydeck is the highest public vantage point in the Southern Hemisphere. Its 88th floor offers panoramic city views and a protruding glass cube. 📌 🚋 🌐

Melbourne Star Observation Wheel a giant Ferris wheel in the Waterfront City precinct in the Docklands area. Kids might also visit Wonderland Fun Park nearby. 📌 🚋 🌐

Scienceworks is a world-renowned science museum in Melbourne. 📌 🚋 🌐

Puffing Billy Railway is

a century-old steam train which still runs on its original mountain track

. 📌 🚋 🌐
For Nature Lovers
| | |
| --- | --- |
| Fitzroy Gardens is a park within few minutes from Melbourne CBD with a number of photography objects. Make sure to visit Cooks' Cottage, Sinclair's Cottage, Fairies Tree, Model Tudor Village, Temple of The Winds and the beautiful conservatory with incredible amount of flowers. 📌 🚋 🌐 | Royal Botanic Gardens is a huge garden famous for picnics when the weather is good. Make sure to visit La Trobe's Cottage, Government House, Ornamental Lake and its Picnic Point, Fern Gully, Central Lawn, Arid Garden and Guilfoyle's Volcano. 📌 🚋 🌐 |
| Phillip Island Nature Parks is the one and only place you can watch penguin parade. Little penguins (Eudyptula minor) are the smallest of all penguin species and their largest ecosystem lives in this area. 📌 🌐 | Grampians is a national park with stunning landscapes and abundant wildlife It's a bit far but worth the time and effort to go there. 📌 🌐 |
| Great Ocean Road is an Australian National Heritage listed 243 kilometres stretch of road along the south-eastern coast of Australia between the Victorian cities of Torquay and Allansford. You can see the famous Twelve Apostles there. 📌 🌐 | Mt Buller is the place to experience snow in winter and a number of sport activities in summer. 📌 🌐 |
| Healesville Sanctuary is a zoo specialising in native Australian animals located at Healesville in rural Victoria and has a history of breeding native animals. 📌 🌐 | Dandenong Ranges National Park protects tall forests of the Dandenongs. This park is well known for its spectacular Mountain Ash trees and lush fern gullies. 📌 🌐 |
| Yarra Valley Wineries is an area where many great wineries in Victoria are located. You can either visit these places for wine tasting, or purely to enjoy the great view. 📌 🌐 | Wilsons Promontory National Park is another great park. A bit far from Melbourne but if you love nature and has the time to spare, it's worth a visit. 📌 🌐 |
| Albert Park Lake is a large lake located around 3km South from Melbourne CBD. 📌 🚋 | Tesselaar Tulip Farm is a very beautiful farm with tulip flowers of many colours for as far as you can see. The farm is only open for tulip festival, which usually happens in September or October every year. The actual dates vary and you must always check with their website before planning your visit. 📌 🚋 🌐 |
For Art and History Appreciators
| | |
| --- | --- |
| Melbourne Museum offers various exhibitions. Some are permanent, some are seasonal, so there's always something new to see. This place can be somewhat interesting for pre-teen kids too. Royal Exhibition Building is located right next to it and is one of the iconic landmarks for photo takings. 📌 🚋 🌐 | National Gallery of Victoria (also known as NGV) is Melbourne's iconic art museum. 📌 🚋 🌐 |
| University of Melbourne – Parkville Campus is open for public 7 days a week. You can't really enter most of its buildings, but just having a stroll around the complex offers really unique experience of classic historical buildings and some really great spots for taking photos. 📌 🚋 🌐 | Shrine of Remembrance is Melbourne's most recognised landmark and Victoria's largest and most visited war memorial of National Significance. 📌 🚋 🌐 |
| State Library of Victoria is a library with beautiful architecture from the inside. Make sure to check its opening hours. 📌 🌐 | St Patrick's Cathedral is a leading example of Gothic-revival architecture, built in stages between 1858 and 1940. It is a active cathedral church of the Roman Catholic Archdiocese of Melbourne. 📌 🚋 🌐 |
| Parliament House is a historic building located on East Melbourne. It has served as both the seat of the Parliament of Victoria (1855–1901, 1927–present) and as the seat of the Federal Parliament of Australia (1901–1927). 📌 🌐 | Old Melbourne Gaol was a prison from 1842 to 1929. Now it becomes a museum. 📌 🌐 |
Factory Outlet Shopping
| | |
| --- | --- |
| Spencer Outlet Central is located next to Southern Cross Train Station on Spencer Street in the CBD. If bargain shopping is in your travel checklist, give this place a go for a lot of different brands offering outlet pricing. 📌 🚋 🌐 | DFO Essendon is shopping heaven for bargain hunters. It takes a bit of more effort to go there, but the area is even bigger than Spencer Outlet Central. 📌 🌐 |
For Culinary Explorers
Hardware Lane is located in Melbourne CBD. It runs roughly North-South between Bourke Street and Little Lonsdale Street. 📌 🚋
Lygon Street, Carlton is an Italian precinct famous for its cafes and great restaurants. Note that food from other countries have joined this culinary area. 📌 🚋 🌐
Chapel Street, South Yarra is a shopping, dining and entertainment precinct. 📌 🚋
Brunswick Street, Fitzroy is known for cafes, live music venues and alternative fashion shops. 📌 🚋 🌐
Those areas above offers unique culinary experience with various choices of food.

If you prefer to go straight to the best place for certain of food:

Best fish n chips: Hunky Dory. Best Japanese ramen: Mappen Ramen and Shujinko Ramen. Best Japanese bento: Ajisen Ramen. Best Vietnamese noodle: Pho Bo Ga Mekong. Best pizza: Zizani Pizza. Best dim sum: Tim Ho Wan. Best Korean food: Seoul Soul and Oriental Spoon. Best Mexican food: Fonda Mexican. Best charcoal chicken: Super Rooster. Best pancake: Pancake Parlour. Best ice cream: Miinot Gelato.

Disclaimer: these recommendations are based on personal experience and taste from my wife and I. Of course different people could have entirely different opinion.
Getting Around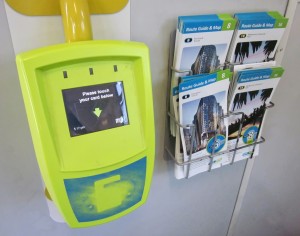 Melbourne has excellent public transport. To take public transport (trams, buses and trains), you will need a pre-paid card named Myki. You can purchase Myki card at major train stations, 7 Eleven stores, some Myki machines in selected tram stops and some other stores putting the Myki logo. Children under 4 year-old may travel for free. Children aged between 4 and 16 (inclusive) can travel on a concession fare. This concession card requires special Myki cards that can only be purchased from major train stations. All train stations in CBD sells Myki cards.

Calculating the fare is very easy. Basically you have to option: travel by Myki money or by Myki pass. Myki pass is a cheaper option if you stay in Melbourne for at least 7 days and use public transport a lot. Otherwise, Myki money is your best bet. On weekdays, unlimited rides using trams, buses or trains (or any combination of them) within 2 hours will cost you $3.90. When you travel for more than 2 hours on that day, the machine will deduct another $3.90 from your pre-paid card, costing you $7.80 for unlimited rides the whole day. On weekends and public holidays, the total money you will pay for whole day travel is capped at $6.00.

What about if I only want to travel one time on a short distance? Well, you'll still pay the 2 hours cost. That's the minimum payment. The good news is, trams travels within CBD area is entirely free, but as soon as you're leaving the CBD area, you will need to touch on your Myki card to pay your fare. Read here for more information on tickets and read here for public transport maps. Also, Myki fares changes every year on 1st Jan. The fare written in this article is the fare for 2016.

Update 2018: one day of Myki money now costs $8.60, 2 hours travel will cost you $4.30. Weekends and public holidays have total cap of $6.30.
Other Things
Weather: Melbourne is famous for having weird weather. So, dress for all seasons (yeah I know it's not always easy).

Accessibility is good here in Melbourne. Wheelchairs and Children's prams can easily access almost every public place.

We drive on the left side of the road. Baby capsule and child restraint is compulsory for private cars, but not compulsory for public transport (trams, buses, trains, taxis). Uber is considered as private car.

To catch a bus, we always enter from the front door. We can get off from any door. There's no door rule for trains and trams.

In public transport, giving up seats for the elderly, people with disabilities or injury, pregnant women, families with young child is considered as expected behaviour.

An easy way to spot public transport signs: green signs are for trams, blue signs are for trains and orange signs are for buses.

Most places accept credit cards (Visa and Master). Amex is accepted in limited places, even though some of them will add surcharge.

We don't tip.

Smile, being polite and answering those "how are you" greetings will take you miles. It is considered rude to ignore the greetings, reacting with just a smile is generally considered not good enough.
That's it. Have fun and I hope you enjoy your visit to Melbourne.