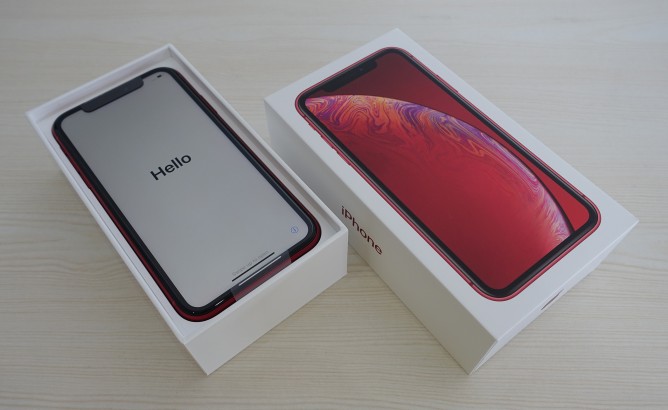 I upgraded to iPhone XS Max this year, my wife upgraded to iPhone XR. Just like many other XR buyers, the main considerations were price and colour. She has used her new iPhone XR for over a month now and quite happy so far, with the exception of FaceID. This is a quick review post on her iPhone XR along with some quick comparisons against my XS Max.
First, the look of the phone. My wife's iPhone XR looks stunning in red. Other than the back colour and the single camera, there is not much differences from physical appearance unless we make effort to differentiate. iPhone XR is slightly smaller than XS Max. The bezel around the screen is somewhat thicker. If one upgrades from iPhone 7 or 8, this bezel thickness will not be a minus point at all. For me, having used XS Max for a few months, I do feel that the bigger bezel is a minus point. To be fair, more bezel would probably make it slightly easier to hold, especially that the overall body of iPhone XR is noticeably thicker than iPhone XS Max.
iPhone XR has 6.1-inch Liquid Retina HD True Tone display with 1,792 x 828 resolution (326 pixels per inch). On paper, this is lower specs compared to iPhone XS Max with 2,688 x 1,242 resolution (458 pixels per inch). Do I notice the difference for everyday use? Yes if I make effort for my eyes to see the difference. No if I really just use the phone casually for everyday activities.
The next difference point is camera. iPhone XR takes really good photos. In locations with decent lighting, XR and XS Max take quite similar photos. The real difference comes with the 2x optical zoom only available for XS Max. I found myself using that a lot, especially to take photos of my 3yo and my newborn baby. Using the 2x zoom, I could get their photos without my shadow in the photos. For me, that is something I appreciate.
Battery life is good so far. One full charge in the morning usually survive through the day for both XR and XS Max. The real test would come when both phones are about one year old. I have started using wireless charger for convenience. My wife still chooses to use cable for charging.
iPhone XS Max has 4GB RAM and iPhone XR only has 3GB. Does it make any difference in real life usage? Can't really tell. By nature, I am a heavy user of any smartphone that I used. My wife is more of casual user. So we probably choose the right models for our usage pattern.
My wife is reasonably happy with her new phone and I am happy with mine. If there is anything we really hate about our new phones is the new FaceID. Yes it is reasonably fast and accurate. Yes we can quickly disable it to prevent unauthorised access. However, it does not change the fact that losing TouchID means we lose a very convenient way to access our phone when put on a table without having to lift the phone. With FaceID, we absolutely have to lift the phone to allow the front camera to "see" us. We didn't have to do it at all with TouchID because we simply need to put our finger on top of the sensor while our phone remains on the table. For a family with young kids, this use case would be needed several times in a day. The fact that both our new phones are noticeably heavier than our old iPhone 7 makes this feels more annoying.
I don't really mind having FaceID as a new feature. Losing TouchID is what irritates me more. Really hope Apple would make a phone with fingerprint reader integrated into display soon.