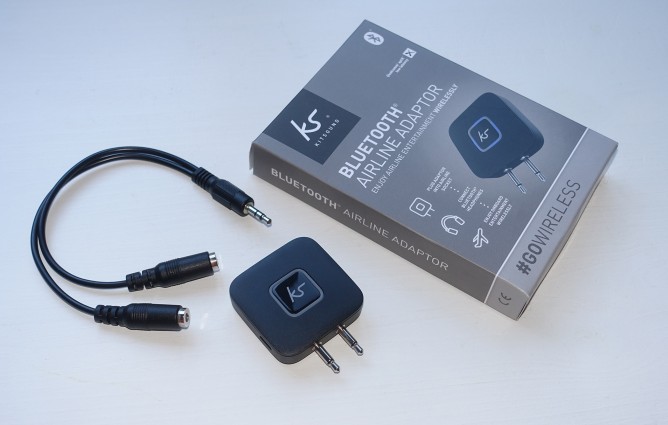 Kitsound Bluetooth airline adaptor is a Bluetooth transmitter to allow wireless headphones to connect to dual connectors 3.5mm jack commonly found in aisplane cabins. A popular use case is during flight so that we can sleep without the annoyance of cable still connected. I used Kitsound Bluetooth airline adaptor last year before COVID-19 pandemic and just happened to stumble upon it when I reorganise my study room.
As you can see from the photo, this transmitter has built-in dual 3.5mm connectors, making it very practical to use in flight cabin. Technically you can also use this with normal single 3.5mm connectors thanks to the included cable, but it will not be as practical.
According to its official specifications, Kitsound Bluetooth adaptor packs 250 mAh rechargeable battery that can last up to 9 hours. I only got around 7 hours, but that's probably because I turned it off and back on several times. Charging time is 2 hours, which could be problematic if this is your only Bluetooth transmitter. I brought this together with AirFly and when one is charging, I can use the other.
There is only 1 button on this little gadget, so we need to actually remember how to do things with it. To enter pairing mode, we press the multi-function button for 6 seconds and the LED indicator will flash red and blue. Once connected, the LED will turn solid blue. After pairing, 3 seconds press will turn on the device and another 3 seconds press will turn it off.
Bluetooth connection is reasonably stable. Most of the time it remember the last device it connected to without any problem, but I had a few times when I had to re-pair. Sound quality is decent. You will not get the ultimate sound quality, but it's certainly sufficient for its use case: in the flight cabin, which is noisy anyway.
With many countries are still closing their international borders due to pandemic, I do not know when I will be able to use this again. But we can always hope for a better future.