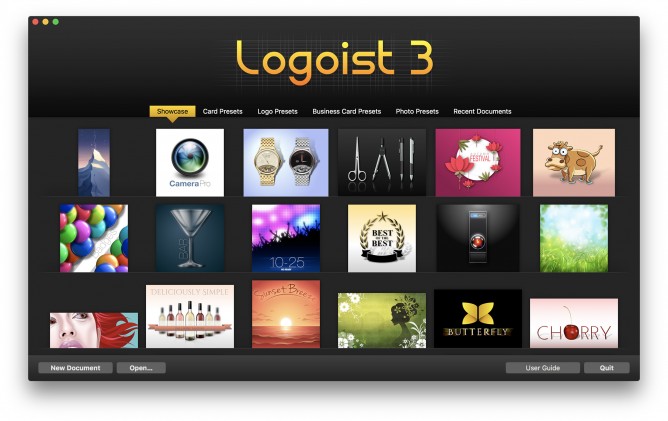 Two years ago I purchased a logo design app called Logoist 2 and was very happy with what I got. I consider myself somewhat tech-savvy person and can do decent level of image editing using Photoshop. However, creating a proper logo (or anything really) from scratch using Photoshop is still something beyond my capability. Photoshop is a powerful tool capable to do almost anything we can imagine with digital image. However, using Photoshop to actually create something requires something more than just understanding its tools and features: it requires talent.
Give an ordinary person a blank canvas of superior quality and the best available brush and paint, we'll most probably get average-quality painting. Give an artist the cheapest blank canvas, cheapest brush and paint, he could probably still draw something great. Thanks to my near-zero talent in art, the best I can do was using royalty-free image, then modify it using Photoshop to end up with something that looks like a logo.
Logoist 2 takes different approach to logo design. Instead of telling us to draw, it offers us a whole bunch of templates and components. We build our design by combining its components, saving us from having to draw from scratch.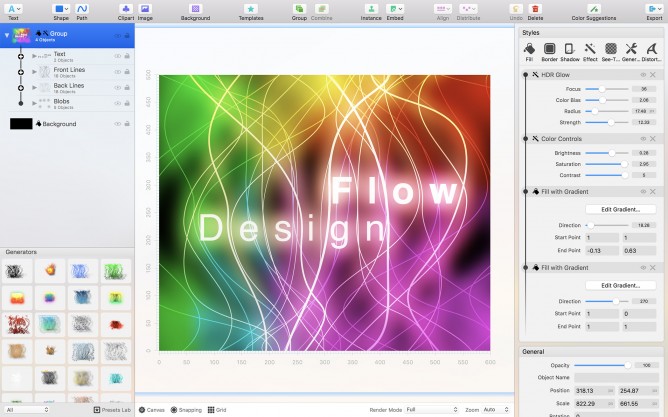 Three weeks ago, Benjamin from Synium Software was kind enough to send me a promo code in Mac App Store to get a copy of their latest release: Logoist 3. So I downloaded Logoist 3, gave it a try and I can firmly say that I love it.
First, Logoist 3 delivers all the good things I know and love from Logoist 2 and they improve it even further. In the first few minutes, I already like the ability to choose between light and dark themes. The redesigned side bar makes more sense and allows me to do faster manipulation. I particularly enjoy the new gradient editor directly on the canvas.
Being a user of Macbook Pro with Touch Bar, I was exited to see custom menus appearing on my Touch Bar. We can use Logoist 3 to create logos, greeting cards, business cards, photos. Users can either start from one of its presets, or use a blank canvas. From there, we could add text, shape, path, cliparts, background or templates. Each of those components can be modified with almost infinite possibilities, from simply changing the colors, applying gradients, or putting special effects from generators. We can change an object's fill, border, shadow, effect, opacity, generator, distortion or any combinations of those.
Compared to the previous version, I notice that Logoist 3 offers more templates object and brand new generators. The flexible shape library is also significantly improved, even though I haven't really need all those new stuffs for the design I needed to do. For a complete list of new things in Logoist 3, you can go to this page.
In the last few days, I managed to come up with some really good looking designs using Logoist 3 and after 2 years I am still impressed with how easy the process was. Unless you're a talented artist, I believe Logoist 3 will bring more productivity for most people. This app is not particularly cheap, but I would firmly recommend to give it a try.