I started using Apple Watch Series 3 with LTE connection 2 weeks ago and used it as my only watch. I wear it since I wake up in the morning, to the time I go to sleep at night, approximately 15 hours of usage per day. So far, I am quite impressed.
First, battery life. I read from a lot of different reviews about how "limited" the battery life of Apple Watch is. In my personal experience, I never had to worry about battery life during my first 2 weeks. The very first day, I set up my Apple Watch around noon and I had around 35% battery remaining when I was about to go to sleep. Just like every other first time user, I uses the watch a lot, I installed many apps, synced my songs and photos, and still had more than enough juice throughout the day. Second day, I used Apple Watch almost the whole day, experimenting with watch faces and complications, did a number of workouts and tried the Pokemon Go on my new smartwatch. I still got 18% battery when I was about to sleep. From the third day onward, my normal everyday use consists of 2-3 workout sessions, lots of glances, full notifications from my iPhone, occasionally replying to messages through my watch and opening some third party apps (mostly Carrot Weather and some apps for public transport schedule). With such use, my watch generally had somewhere between 65% to 80% remaining battery power at night, with one exceptional day with 45% remaining. This is far better than what I initially imagined. I assume I could probably stretch it towards 2 days of use, but I choose not to do so. I had my watch charging the whole night and wake up in the morning with fully charged watch.
Next, LTE connection. It's worth to note that not all operators could support Apple Watch connection, especially because Apple Watch does not use normal (physical) SIM card. Instead, it uses eSIM, which basically arrange the connection through some online account interface. As far as I know, only postpaid customers can use this process because the eSIM in Apple Watch would share the same phone number as the one in our iPhone. In Australia, we only have 2 providers supporting Apple Watch: Telstra and Optus. Both offer the same AUD 5 monthly cost (approx USD 3.89). I choose to port my number to Optus because they have better deal for the SIM-only plan for my iPhone, plus they offer the first 6 months free for the Apple Watch connection, data quota is being shared with my iPhone. With the first 6 months free, I will only spend AUD 30 (approx USD 23.34) for the whole first year. Not a bad deal in my opinion, especially that Optus even added 512 MB into my monthly data allowance, so I get 15.5 GB per month to share between my iPhone and Apple Watch.
If we bring our iPhone almost all the time, this LTE connection will rarely even needed. Apparently, Apple Watch will always try to look for our iPhone nearby as the first connection preference. If the paired iPhone is found, it connects to the Internet through our iPhone and will not even try other connection methods. If iPhone is not nearby, it will search for known WiFi signal. If WiFi is found, Apple Watch will use it, and will not even try to connect to LTE. Only when nearby iPhone is not found and no known WiFi is around, Apple Watch will use LTE. For most people, most of the time this LTE connection will not even be used.
One good scenario of using this LTE is for doing some outdoor walk or run. Previously we had to bring our phone for exercise. Now we could leave the phone at home and stay connected through our watch. Thanks to Apple Watch having internal memory for music, we could even listen to music while doing exercise. Or even better, the upcoming WatchOS 4.1 will bring music and radio streaming.
In my tests, LTE connection works really well and strong. I switched my iPhone to Aeroplane Mode when outdoor and Apple Watch automatically switched to LTE (no known WiFi nearby). It tracks my workout nicely, and I continued to receive text messages and other notifications when doing exercise. The downside, it does consume battery power faster than normal. That exceptional day with 45% battery remaining at night was the day after around 30 minutes of exercise with LTE connection. The good side, when Apple Watch gets its Internet connection from our iPhone or WiFi, having LTE connection on standby does not seem to have any impact on battery life.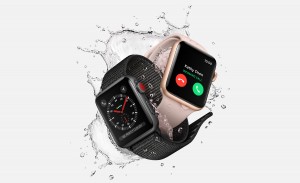 There are 2 ways to use the various Watch Faces of Apple Watch. Since changing Watch Face is as easy as swiping left and right, we could actually use it as some sort of profile. For example, I use Activity Analog and Activity Digital for everything related to workout. This means, I put step counter and heart rate monitor for the Complications of those Faces. I use my Explorer Face for going out with public transport. So I put weather forecast and an app of public transport schedule as my Complications there. We could also put shortcut to frequently used apps as Complication. Depending on the situation, I only need to swipe my Face to meet whatever current situation I'm in, and I immediately get the set of Complications that I need. A friend of mine, however, found that changing Face by swiping is too easy and having multiple Faces set up is more of annoyance rather than convenience. So he opted to put only one Watch Face.
Did I mention that Complications are super useful? As public transport user, it's super convenient for me to immediately know the schedule of the next bus/train/tram. Combined with GPS, some apps could automatically detect our nearest favorite stop and show the schedule for the stop. Seeing weather forecast of the day without having to open any app is also very handy.
Heart rate sensor works nicely. Most of the time, it gives similar reading as the one detected by my Fitbit Charge 2. I like the fact that Apple Watch back side has more subtle bump compared to Fitbit's, it feels a lot more comfortable for long period of wearing. I also noticed that the sensor light does not always on for Apple Watch. I peeked on it several times and saw them off most of the time. I guess Apple Watch has some sort of algorithm on when to detect the heart rate instead of all the time. This could be a strategy to save battery power. In comparison, the green light at the back of my Fitbit Charge 2 is always on everytime I tried to look at it.
The 3 activity rings is an interesting way to encourage users to be more active. First we have the outer red ring, which represents "Move". Instead of simply using our step count, Apple combines our step count with heart rate sensor to calculate kilojoules of energy. We could choose our own daily target. The green ring in the middle is "Exercise" ring. It measures how many minutes we do exercise in a day. The target is 30 minutes and there is no way to change that. I found this auto detection of exercise rather mysterious. There are times I deliberately going outside for a walk and it didn't detect my movements as exercise. There are times when I simply do some house chores at home and it detects good minutes of exercise. My guess is that it will only count active movement as exercise if my heart rate is above certain threshold. The blue ring in the inside is "Stand" ring. For every hour, if we spend at least one minute of standing or walking, it counts that hour as active. The daily target is 12 active hours and there is no way to change that.
I love these 3 activity rings. It did encourage me to move more, and the hourly "active" target (1 minute of standing/walking) is far more reasonable than what my Fitbit demands (250 steps). I had to walk around the office like a silly person every hour just to meet the requirement, until I decided it's not worth humiliating myself. Once we set up Apple Watch, a new app called Activity will appear in our iPhone and we could see our rings synced there. There are some Achievement badges to be obtained. There is a tab to share our activity, sadly it only works with other Apple Watch users.
There is a small feature that could be useful for some people. It allows us to set the clock to display the time with X minutes ahead. I know that some people deliberately set their clocks few minutes faster, they can still do so with Apple Watch. All alerts and notifications will still arrive at the correct time though.
Next is Siri. Our Apple Watch responds to "Hey Siri" at anytime. Siri can talk and would interact with us like in sci-fi movies. Admittedly, her usefulness is still far from what I hoped it to be, but at least I could easily ask her to start and stop workout activity without I need to press anything. I could also ask her to reply message, play music or simply ask about weather.
Apple Pay in Apple Watch is nice and handy. I could pay restaurant's bill while carrying my son with my other hand without having to reach for my wallet or my phone. I find it smart for them to protect Apple Watch with PIN code and automatically detect when we detach the watch from our wrist. Without this security measure, I wouldn't even think about using this feature.
Replying text messages in Apple Watch is convenient and surprisingly makes sense. Reading email, however, is not. I stopped caring about email in Apple Watch other than seeing notifications about incoming emails. Listening to music is surprisingly enjoyable. Note that we need to have Bluetooth headphones to enjoy music from Apple Watch. Or we can also play music from iPhone and use Apple Watch as remote. Apple Watch has an app to control iPhone camera. It even has live preview, so we can use iPhone's back camera with better resolution to take our selfies.
Not all iPhone apps has Apple Watch interface. If it does, the apps will appear in our Watch app and we'll get the option to install the app into our watch. There are other settings similar to iPhone, such as whether we allow the apps to give notifications, whether we allow background refresh or not, a lot to explore and set up before we get a truly optimised watch experience. The installed apps can be opened in Apple Watch through an interesting interface with all the icons arranged in hexagonal pattern. I'm not a big fan of this interface, but it works when I occasionally need it. Most of the time I could access my apps from Watch Face Complications or by asking Siri.
Obviously, not all apps will work well in such a small screen. Before installing all those useless apps into our Apple Watch, ask ourselves, in what situation would we need that app without opening our phones. Some apps such as weather, voice recorder, or even digital membership card makes sense. A complex game definitely belongs to larger screen.
Other features of Apple Watch are basically mirroring iPhone. It has flashlight mode, which essentially show white screen. It has do not disturb mode, vibrate mode and also Aeroplane Mode. One nice touch from Apple is that we can set our Apple Watch to mirror what we set to iPhone. This includes some notification settings. Setting iPhone to Aeroplane Mode will also turn Apple Watch to Aeroplane Mode, I find this quite handy.
So many great features packed in a tiny device. I love my Apple Watch and will continue using it as my primary watch in any foreseeable future.