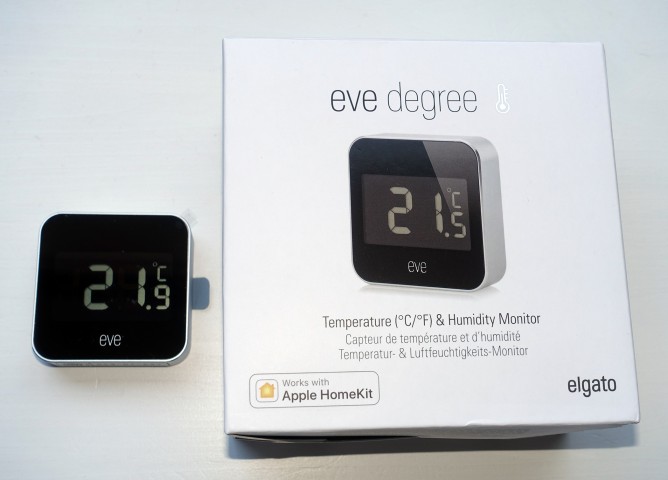 Monitoring temperature and humidity from our smartphones has never been easier thanks to Eve Degree from Elgato. This sensor has built-in display, allowing us to see the reading value with or without Eve app. It can also detect air pressure, even though I personally don't often use such data.
Initial setup of Eve Degree is easy using the 8-digits HomeKit serial number, conveniently engraved at the bottom of this sensor, so there is no need to keep the box or any sticker around. After initial setup, we can see the temperature reading from Apple's Home app, Eve app or directly on the sensor. Using Eve for HomeKit app, we get to see more data such as historical trends presented in very nice graphics.
After Eve Degree is properly set up with HomeKit, we can use other HomeKit-compatible devices to work with the data. We can ask Siri what's the temperature in the room where we put Eve Degree, we can trigger some devices to turn on when the temperature reaches certain threshold and so many other possibilities.
This sensor uses CR2450 replaceable battery (included). Not really a common type of battery so you might want to keep one as backup. The built-in e-ink display is good, but nothing fancy. It's readable, yet not really the brightest. I guess this is a good compromise so that the battery life remains acceptable. There is a button at the back to switch between temperature and humidity display. This button was also used to turn on the sensor at the very first time, supposedly activating the battery power.
Operating range is -18° to 55° C, 7.7 – 37.2 inHg. Similar to Eve Weather, Eve Degree has IPX3 water resistance rating. It means this sensor will survive small rain, but not being submerged in water. I personally wouldn't put this in open space without rain or sun protection.
Simple sensor that does what it promises. Happy with this purchase and will continue to use Eve sensors for my HomeKit devices.