My wife and I went to Japan back in 2012 and loved it so much we always wanted to go back. Japan was such an amazing place we felt that a week was too short to enjoy it. This year, we finally did, with a little difference. This time, we had our two weeks trip to Japan with 2 young kids (4 year old son and 9 month old daughter). This article is about our experience, from preparation to the actual trip. From idealism to realistic adjustment to the situation. We hope this would somehow be useful to other English-speaking travelers who plan to visit Japan with their families.
Preparation
For our trip back in 2012, we prepared our itinerary down to the last detail because we were very nervous about the language barrier. This time, we started our planning with one key point to start: going there with 2 young kids mean that changes are bound to happen. So we totally adjusted the way we plan and tried our best to stay realistic with what we might be able to achieve in a day. In this article, each day is going to be written to show the plan vs actual.
Back in 2012, tourists could not get a SIM card in Japan and our only options were mobile WiFi rental or SIM card rental. This time, we have a few choices: mobile WiFi rental, SIM card rental, purchase prepaid SIM with data only (no phone call and no SMS but can use Internet-based voice call such as WhatsApp audio), or proper SIM card with normal voice call, SMS and data (must be postpaid). I opt to get one data SIM for my wife and proper SIM card for my phone. Proper SIM card is significantly more expensive than data SIM because just the empty SIM card itself (plus registration) already costs 3000 JPY, and then we need to choose which data plan and phone/SMS plan with additional costs. The only reason I choose this option is to cover ourselves in the case of emergency. With young kids, we need to consider the possibility of having to call hospital or ambulance from a place we're not familiar with. Having the option of "normal" phone call certainly helps. The SIM card I got was from Mobal, which got me genuine Softbank SIM with legit Japanese number.
For transportation, it's almost no brainer that we got ourselves Japan Rail Pass 14 days. Our plan definitely involves multiple cities, and we know Shinkansen ticket would cost a lot if bought separately. Unless you're staying in one city, Japan Rail Pass is usually a cheaper (and more convenient) choice. In fact, the whole decision of 14 days trip was decided because we felt 7 days won't be enough time for us to enjoy Japan with kids, and there is no option of Japan Rail Pass between 10 to 13 days. So… 14 days was decided.
We can't buy Japan Rail Pass in Japan. It has to be purchased from our home country before our trip. If this is your first time, this link is the official list of authorised Japan Rail Pass sellers.
Hotel booking is our next challenge, especially with our 9mo baby who still need regular milk. It means we need to wash and sterilise bottles regularly, so distance from other places we plan to visit is a concern. Another consideration is distance from train station. We need something walking distance from major train station. In Tokyo, that has to be any station within Yamanote Line AND visited by Narita Express. That leaves us with only a few options. July is summer in Japan and it gets really hot. Our baby gets upset very easily when it's too hot at night so we need to make sure we book a hotel with proper air conditioning, not just some central "weather control" that couldn't give us the temperature we need.
Packing is another difficult task, especially for baby's feeding tools. We couldn't possibly bring our large-shaped bottle steriliser from home, so we opt for more practical solution of cold water sterilising using Milton pills.
Day 1
After all the preparation, our day started with waiting time at the airport with 2 bored kids. Finally boarding, we were pleased to see that our seat has baby bassinet for babies under 10 kg. Was the bassinet any useful? Yes. Did it do magic making our daughter to enjoy the whole flight? No. We did our best to make 2 young kids happy throughout the flight and we survived.
Arriving in Narita, we found it reasonably easy to follow the signs to the train station. The bit of challenge is to find lift every time those directions pointed us to an escalator.
At the station, I needed to exchange our Japan Rail Pass payment voucher into the actual pass. There's a counter with English sign so finding it won't be a problem. Using the Japan Rail Pass, we could make a reservation to take the Narita Express train that will bring us to some major stations. Our hotel in Tokyo is near Shinjuku Station, so we choose the train that will stop there.
Narita Express train has reservation system that will help passengers to stop at the right station. Please make sure that you get on the right carriage as indicated in your ticket because at some stations, the train will split into 2 different direction. Sitting in the wrong carriage might bring you to a different route.
Navigating Shinjuku Station might be quite intimidating for first timers. For friends planning their first visit to Japan, I usually recommend booking a hotel near Shinagawa Station.
Since this was our second trip to Japan, my wife and I thought we should be able to navigate Shinjuku Station without a problem. How wrong we were. There were enough signs and directions in English and following them will indeed bring us to the right location. However, those signs and directions doesn't carry a clue whether we will arrive at a location on the ground, or on some elevated shopping area. All of these won't be a problem if we're not traveling with baby on a pram and 2 large luggage. Escalator is simply not a feasible option in most situations, so we needed to spend a LOT of extra time figuring out where was the nearest lift. The distance from Shinjuku Station to our hotel (Sunroute Plaza Shinjuku Hotel) appears as 5 mins walk in Google Map, it took us more than 40 mins to finally arrive at our hotel because we naively choose one exit gate instead of another (both gates look nearby in Google Maps).
In the process of dealing with 2 heavy luggage, 2 medium-sized bags, a pram and 2 kids, I managed to hurt my ankle that evening.
The plan was to finish hotel check-in then spending the rest of the day walking around the area. The reality was both my wife and I were too tired to do anything and we had to entertain 2 extremely bored kids who can't wait to move around after being restrained almost the whole day.
Day 2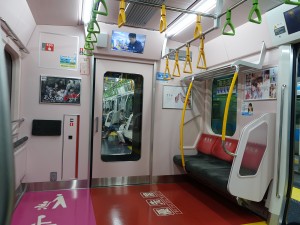 The original plan was to use day 2 to visit Yoyogi Park, Shunjuku Gyoen, Sunshine City near Ikebukuro Station, Ueno Park (with possibility of Ueno Zoo) and some stores near Shinjuku Station. All well planned in the itinerary I have spent months to prepare.
The reality, we all woke up late because everyone was too tired from the first day flight. Plus, my wife was not feeling well, sore throat and a bit of fever. We decided to spend the morning to rest in the hotel.
In the afternoon, we started our day by looking for a drug store to buy some medicine for my wife. Then we took Yamanote Line from Shinjuku to Ikebukuro, followed by some walking to Sunshine City so that my son can visit Pokemon Centre Mega Tokyo. It was another long walk and another struggle to find lift. Pokemon Centre Mega Tokyo was awesome, even for a grown-up like me. Disclaimer: I liked Pokemon from when I was a little kid, too.
By end of the day, we started figuring out a faster way to find lift. In most major stations or shopping malls, there are always yellow line to assist people with disability. Following that line almost always lead us to a lift.
We managed to complete 1 out of so many places in our itinerary for day 2. But at least we had a very excited boy returning to hotel with all his new toys, and a baby girl excited to crawl around following her big brother in the hotel room.
At night time, I still managed to walk around the hotel and found a Yamada Denki store to buy the newly-released Sony WF-1000XM3 true wireless earphones with active noise cancellation. I also figured out the location of a lift to enter the shopping area underground near our hotel. It was frustrating when we see a place on Google Maps, we reached that exact location and found nothing, only to realise that there is an area underground.
Day 3
In the original itinerary, the plan was to go around Ginza area, then have lunch at Hands Expo Cafe, then take the train to Thomas Town in Saitama.
The reality, my wife's sore throat and fever got worse. So in the morning we called our hotel's front desk asking about the nearest hospital or clinic with English-speaking doctor. We were referred to a place called Sendagaya International Clinic and the hotel receptionist was kind enough to help us with making reservation. We took taxi to the clinic. It was a small clinic with impressive health tools. Blood tests that usually take 1-2 days in Australia was completed within a few minutes with conclusive results. We didn't even need to buy the medicine from somewhere else. They make sure we left the clinic with medicine, face masks and everything that we need. The bill was expensive, lucky that it will be covered by our travel insurance.
By the time we finished from the clinic, it was already past lunch time, so we stopped by a restaurant named Hidakaya Ramen near Sendagaya Station. We felt that the ramen we had there was quite delicious, not sure if the fact that we were quite hungry boosted our opinions on it.
We still went to Ginza, but in a big rush because we already made reservation at Hands Expo Cafe. I was excited with this place because I read from many online reviews that they have hidden menu (not listed in the menu but can be requested) and it looked so Instagram-worthy. We arrived there only to get disappointed because apparently they have stopped making that hidden menu.
In the evening, we ended up walking in Tokyo Station, to an area called Daimaru Character Street that has all kinds of merchandise of cartoon characters. My son stopped a bit in Lego Store, then continued to our destination: Pokemon Store Tokyo Station. If there's anyone in the group fully satisfied by end of that day, it's definitely my son.
For dinner, we got some ekiben from Tokyo Station and I bought a bowl of oden in convenience store near our hotel. That night, I realised that my ankle that got hurt on the first day started to get swollen.
Day 4
With tickets already pre-booked, day 4 is planned for a full-day visit to Disney Sea. We started the day by going to a bus terminal near Shinjuku Station. In this terminal, we can buy tickets for Shinjuku Express Bus, direct to Tokyo Disney Resort. Sure we can go to Disney Resort by train (JR Keiyo Line from Tokyo Station), but since my wife is still recovering and my left (swollen) foot is getting more and more painful, we decided that express bus would be more practical.
In the bus terminal, we buy the ticket from ticket machine. We can choose English on the machine. Supposedly we can also do online booking, but unless you plan to go on a really busy season, simply walk in and buy the ticket on the spot is very doable. Be sure to get on the right bus. Colour-coded directions on the floor are hard to miss and quite straightforward.
The weather was quite wet that day. We all bring umbrellas, but windy showers throughout the day makes our Disney Sea visit had to start with souvenir shop to buy raincoats.
We started our Disney Sea journey by taking the red Electric Railway that connects Port Discovery area and American Waterfront. From the train ride, you can get much better idea about the size of the park and specific places that might suit your interest. Lunch was at Horizon Bay Restaurant, followed by our first ride 20,000 Leagues Under the Sea.
Despite the rain, it turned out to be a quite fun day. It would be even better if I could walk without constant pain on my left foot, but I just had to deal with it. We didn't have the option to skip one of our main itineraries with pre-purchased tickets.
Near end of the day, we went to the Toy Story ride, thinking that we can use this as the grand finale for the day. I had counted the time to ensure that I could use Fastpass. Apparently, Fastpass is only available for the first 8,000 passengers each day. So even though our Fastpass quota is still available, the ride had stopped offering Fastpass tickets. With the queue length at that time, we were not sure if we will ever get to ride before the park's closing time. Even if we do, my feet might not survive the hours of queuing. So we went home with a very disappointed boy. In a way, we are lucky that we decided to go to Disney Sea before Disney Land. At least this experience would help us to plan the Disney Land visit better.
Lucky that taking the Disneyland Resort Line train is exciting enough for train-lover boy. It was 260 yen to Maihama Station, and from there we could take JR trains back to Shinjuku Station. Back in the hotel, I opened my shoes only to find that my swollen foot had gone worse, with blisters.
Day 5
Another full-day visit dedicated for Tokyo Disney Land. Just like the previous day, we decided to take Shinjuku Express Bus again.
Armed with some experience from Disney Sea, we planned our rides better and use our Fastpass with better strategy. Our favourite rides are Pooh's Hunny Hunt, It's A Small World and Alice's Tea Party. Of course there are a lot of more exciting rides, which we might take in future visits when our kids are older.
Lunch was at Queen of Hearts Banquet Hall, followed by super long queue to take photo with Mickey Mouse. Each group is allowed only 1 photo, which will be taken using 2 cameras: the camera from Disney Land and our own camera. Purchasing the photo from Disney Land camera (printed nicely) is optional. But the one taken using my camera ended up being the much better quality. A bit sad that to get the digital file of our photo we need to have Japan address because they will email us a CD within 4-8 weeks.
I had to stop by Central First Aid building around mid day to take care of my left foot. People in the First Aid section does not speak English, but they are quick to open their phone and use Google Translate, which kinda worked for basic communication.
Night time, back to Disney Resort Line, back to Maihama Station. We returned to Tokyo Station then took the quick way back to Shinjuku by taking JR Chuo Line. We learned that using JR Chuo Line is a lot faster than taking JR Yamanote Line, which goes around and visited far more stations. With my left foot condition getting worse, I barely can walk and the return trip became very long because I needed to take frequent breaks to bear the pain.
Day 6
The good news, my wife's recovery is quite well. She was not fully recovered yet, but already well enough for most normal activities. The bad news, I was not sure how much I could walk when I woke up in the morning already with painful foot. We decided to start the day by buying new shoes for me. We went to Montbell and I got myself a pair of gripper sandals. Comfortable to walk and I could freely adjusted the size of my left foot to be much bigger to the swollen size. With these, my day became much more bearable.
Primary plan for day 6 was to go to Thomas Land in Fujikyu Highland, Mt Fuji. From Shinjuku Station, we took JR Chuo Limited Express to Otsuki Station. We learned new lesson that some JR Chuo Line trains have reservations. We thought reservation was mandatory so we got off the first train available to find ticket office to make reservation. Later on, we discovered that JR Pass holders can still take the train without reservations. On top of each seat there's green, amber and red lights, indicating which seats are already reserved, which ones will have someone coming in one of the stations ahead, and which seats are free for people without reservations. Wasted good 45 mins on this whole confusion.
From Otsuki Station, the train to Fujikyu Highland is not covered by JR Pass. Since we already wasted so much time with the reservation confusion from Sjinjuku, we decided to take the express train, which costs 200 yen more. The express train is quite unique, it even has photo opportunity for the passengers. If your kid loves Thomas the Tank Engine, some trains from Otsuki Station are Thomas-themed. When this article is written, the Thomas-themed trains are trains departing at 7:54am, 11:03am and 1:59pm. This schedule might change in the future, so be sure to check the train schedule first.
Fujikyu Highland is a theme park with exciting rides. Thomas Land is a special section inside, dedicated for younger audiences. My son loves Thomas Land and excitedly trying almost every ride in the area. Interesting bit is that they will take our photo when entering Fujikyu Highland, and every time we are about to get on a ride, they will ask to see our ticket and compare our photo from their computer system with the real person.
It was a really fun day, especially that my new shoes had helped me to endure better.
Day 7
Following our schedule, day 7 is for city-hopping from Tokyo to Osaka. We took JR Chuo Rapid from Shinjuku Station to Tokyo Station, then take Hikari Shinkansen to Osaka. We can put our luggage on the storage on top, ideal for small and medium luggage, not usable for large luggage, so we ended up surviving the whole journey with 2 big luggage on our feet.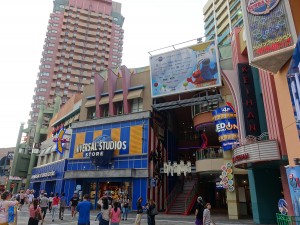 Shinkansen trains stop at Shin-Osaka Station instead of Osaka Station. This might be confusing for first-timers. The fact that Shin-Osaka Station is not part of Osaka Loop route (something like Tokyo's Yamanote Line) makes it almost certain that most people travelling from Shinkansen will have to change train 2 or more times to get to most popular places in Osaka. In our case, we needed 3 transfers (Shin-Osaka to Osaka to Nishikujo to Universal City) because our hotel is located near Universal City Station.
Universal City Station is a relatively small station located near the entrance of Universal Studios Japan. It was a lively area with hotels and shopping centre. Very comfortable to explore. We could even purchase Universal Studios merchandise without even getting into the theme park. We spent quite some time exploring around the area, bought some interesting stuff, then went to Pommenoki restaurant for a nice omurice dinner.
Our hotel is called Singulari Hotel & Skyspa. It is a nice hotel located right at the exit of Universal City Station. Guests will not find any standard hotel amenities in the room. Instead, there is a large table in the reception area and guests are expected to get the amenities that they need from there. The room is clean and small (quite normal for Japan's standard) and smartly designed to maximise the use of space. My only complaint is that this hotel has a policy that fridge will be automatically turned off when guests are leaving the room. So we can't keep anything cool in the fridge.
Day 8
We started the day with Eggs n Things breakfast which my son loves. Then we proceed to Universal Studios entrance gate to scan our pre-purchased tickets. Our first destination was The Wizarding World of Harry Potter area. For my son, it was the first exposure to Harry Potter story and its magical world. Naturally he asked a LOT of questions.
It was a really nice day, if only it was not so incredibly hot. We tried the famous Butterbeer and could confirm that it's indeed great.
Lunch was at Snoopy Cafe, where most of the food are either coming with Snoopy packaging or shaped like Snoopy. After some time exploring, the weather changed from scorching hot into windy rain. Lucky there are some indoor places to keep my little ones busy.
At night, I tried to make Shinkansen reservation for the trip to Kyoto. Apparently Universal City Station does not have a manned ticket office.
Day 9
Another day for city-hopping. We started the day by taking train to Kyoto. Since Osaka is quite close from Kyoto, we decided to take normal train instead of Shinkansen. The trip itself was easy, but we learned another lesson because we arrived at Kyoto Station on the North side, far and difficult to reach hotel with pram and luggage. We followed the signs only to find that some exits only have stairs (not even escalators) and no lift (confirmed because we even asked station officer).
Apparently, we will arrive at platform on the South side if we come from Shinkansen, making it a lot easier to find lift and reach our hotel, which is located on the South-East side from Kyoto Station.
Daiwa Royal Hotel Grande Kyoto is an amazing hotel, almost brand new. We got free upgrade to a very spacey room. That was the largest room we ever got in Japan. My daughter who just learned to crawl enjoyed it so much.
Lunch was at a restaurant in Kyoto Avanti. Then we re-entered Kyoto Station from Shinkansen Hachijou Exit to go back to Osaka, because we essentially had not explored Osaka city. This time we took the unreserved seats in a Hikari Shinkansen train.
After some Osaka time, we spent the evening at Daimaru, only to find out that they have Pokemon Store at level 13, along with Tomica toy shop and Uniqlo. Another shopping session for all of us. Back to Kyoto at night, we had dinner at Kurama Restaurant in Kyoto Station. Our menu was Ohitsu Rice, it was our best meal in Japan so far.
Day 10
In the original itinerary, the plan for day 10 was to visit Fushimi Inari Shrine, Kyoto Railway Museum, Kinkakuji (The Golden Pavillion) and Arashiyama Monkey Park.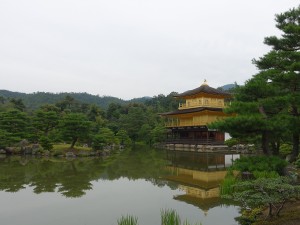 The reality, my left foot is still painful as ever. Swollen and blisters were still there. My wife had mostly recovered thanks to the medicine from the clinic, but we were both very tired with all the non-stop activities so far. We ended up spending our morning in the hotel before started around mid day with only 1 destination: Kinkaku-ji. We took bus, costs 230 yen per person.
Kinkakuji the Golden Pavillion is looking as great as ever. Felt nice to be back after our first visit back in 2012. This time, we came with kids. This time, the number of tourists was probably more than double of what it was 7 years ago. We took some nice photos, then proceed to a sweets shop to get ice cream, which was perfect for the sunny day.
We still had time and a bit of energy, but probably not enough for another tourist highlight location. So we decided to spend the rest of the day in Aeon Shopping Mall. Kids were happy to get into air-conditioned mall. My wife was happy to find free rental baby pram. So both kids each has their own pram while in the mall. For dinner, we choose a restaurant offering buffet dinner (forgot the name). It was yum and fun because my son enjoyed the experiments with chocolate fondue.
Day 11
The original plan is to use day 11 for the trip to Nara, visiting the deers in Nara Park, Todaiji Temple and Kasuga Taisha. Then, if time allows, quick visit to Kiyomizu-dera.
The reality, we started the day by taking JR Nara Line to Inari Station to visit Fushimi Inari Shrine. This was an object for day 10 in the itinerary, but we decided to go here first thing in the morning.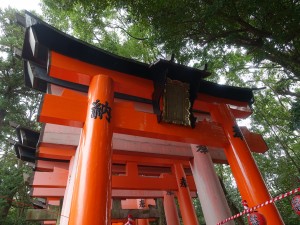 To our big surprise, Fushimi Inari Shrine has changed a LOT compared to 7 years ago. This place became VERY commercialised with stalls everywhere, even in the inner area near the tunnel of torii gates. Getting into the shrine 7 years ago when it was just my wife and I was easy and we didn't think too much about it. Now, with a baby in a pram and a toddler, even going up the stairs needed some planning. We ended up spending far more time there than originally planned. Around lunch time, we walked through the massive amount of food stalls around the area and got some juicy steak on a stick.
There was still time and energy to go to Nara. Just so happen, my son chose that perfect timing to throw a tantrum, resulting in the cancellation of Nara trip.
With the overtired boy sleeping on a pram, I went to Kyoto Animation Shop, which just appeared in the news a few days ago because of a big fire tragedy in one of their studios. The Shop is understandably closed. Took some quick photos and went back to train station to our next destination: Don Quijote in Kyoto Avanti.
We bought a lot from Don Quijote. Then I queued for tax refund, only to find out that the store is required to put all my shopping (with free tax) in a sealed bag and I am not allowed to open it while in Japan. At that point, we didn't know whether someone will actually check it or not at the airport, but since the tax return is only a few hundred yen anyway, we decided to cancel the tax refund process.
Day 12
The play for day 12 is to visit Legoland in Nagoya. Since we don't have hotel in Nagoya, we need to achieve everything within a day's trip before checking-in our next hotel in Tokyo.
We started by taking Hikari Shinkansen from Kyoto to Nagoya. In Nagoya Station, we went searching for coin locker so we don't need to carry our big luggage to Legoland. After a bit of searching, getting lost of finally understood the layout of the station, we found some available lockers in B2 level. Locker costs 500 to 900 yen per day depending on size. Some lockers only accept 100 yen coins, some others accept Suica cards. Be sure to remember which locker you put your luggage into.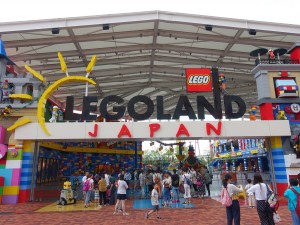 After freeing ourselves from the heavy luggage, we took Aonami Line train to Kinjou Futou Station. It took around 24 mins from Nagoya Station to Kinjou Futou. From the station, there is a pedestrian path with clear signs to Legoland entrance gate. However, that path is not covered from rain and that day happened to be raining quite heavy.
Before entering Legoland, I had to join a queue to exchange my voucher purchased from Klook with the actual tickets. We were quite lucky because the rain stopped when we entered the park, giving us time to enjoy various rides and nice stroll around the Miniland area.
We only have small Legoland Discovery Centre in Melbourne. Going to a full-sized Legoland felt amazing, and I could tell that my son was as excited as I am.
Just when we were about to back, it was raining again. We took the train back to Nagoya Station and took the last running Shinkansen before they cancelled Shinkansen schedules due to heavy storm. Back in Tokyo, back in the hotel, spent the night finding empty coin-laundry machine.
Day 13
The original itinerary for day 13 was to go to Kidzania and some free backup time.
The reality, we decided to use the day to visit Asakusa Sensoji Temple. We started morning by going to a Denny's family restaurant. The food was alright and they provided free toys for the kids. But my wife only survived a few minutes there and decided to go outside straight away due to the HEAVY smell of smoke. Coming from Australia where smoking in public locations dedicated for "family" is quite rare, this visit became a harsh reminder to us that the rest of the world are still behind. They haven't solved the problem of smoking smell inhaled by young passive smokers. It was socially accepted and not seen as a major issue. We beg to differ. I finished my breakfast quickly so that we all could escape and move on.
Arrived at Asakusa area, I saw another popular tourist location turned INSANELY commercialised. Amazing number of stores and it was designed so that everyone going to the temple must go through those stores first. Lucky Japan still remains true to their strength, the stores are very clean, tidy and well-organised, so it was not too stressful to endure.
After visiting Sensoji Temple, we took Asakusa Line to Nihombashi Station. From there, we walked a bit to Takashimaya Shopping Centre in Nihombashi area to find Pokemon Centre Tokyo DX located in East Building level 5, together with the famous Pokemon Cafe. Too bad we couldn't get a reservation to dine in the Pokemon Cafe because it was fully book for several months ahead.
For dinner, we went to Annex Building and got cold soba. Very pleasant dining experience. Then we walked back to Tokyo Station, took Chuo Line to Shinjuku, back to our hotel.
Day 14
Finally the final day, departure day. Nothing specific was planned for the last day, so we ended up spending our morning at Daiso and Shinjuku Don Quijote. After that, we had some time to explore around Shinjuku Station, something we originally planned for day 2.
From Shinjuku Station, we took the quick route of Chuo Line to Tokyo Station, then took Narita Express train back to the airport. We had big lifts from the Narita train platform, but then small lift towards departure lobby. Almost everyone from the train station brought large luggage, and the small lift could only fit few people with luggage, resulting in LONG waiting line. Be prepared of this little surprise, make sure to plan your trip with sufficient extra queuing time.
Before immigration, there is a desk where we are supposed to drop the paper of tax refund receipt. There's someone there, but he didn't care what we put in the receipt box and there was no inspection at all to check the purchased items.
Arrived at boarding gate, another waiting time for 2 bored kids. Then finally the time for our flight home.
It was overall a nice trip. Quite different from what we originally planned. But I guess that's just life with kids. Almost no plan will ever work as is with kids, overseas trip included. It took me another week even after returning home just to get my left foot fully recovered. It is going to take some time to sort out thousands of photos that I took during the trip. Will update this post with some more photos later when I have time.